Our Curriculum
Campus Kindergarten's Theoretical Approach
The teachers at Campus Kindergarten are professionally active and keep abreast of current research and thinking through professional reading, courses of study, seminars, networking and dialogue. The Campus Kindergarten philosophy is influenced by a number of theorists including:
Malaguzzi: children as rich and competent; co-constructors of knowledge; one hundred languages to express oneself (painting, dance, words, drawing, etc)
Rinaldi: the pedagogy of listening
Gardner: multiple intelligences; children express themselves in many ways
Dahlberg and Moss: considers 'quality'; classroom culture
Vygotsky – social constructivism
Froebel – relationships
Piaget: ages and stages; a basis or a guide though is restrictive
Erikson: emotional stages of development
Montessori: life skills; learning in stages; building on prior knowledge
Steiner: supporting individuals; creativity; self-expression
Claire Warden: Children's connection to the natural world and benefit: risk assessment.
As mentioned above in the Mission Statement Campus Kindergarten bases its essential approach and philosophy on those that have emerged from Reggio Emilia in Italy. Recognised as the most outstanding approach in the world the philosophies of Reggio support and give direction to the practices at Campus Kindergarten. Each room contains a book of readings for families to read to support their understanding of the approach. It is important to understand though that there is no formula with Reggio inspired practice. We use the principles of Reggio to examine our practice and our methodologies to make them special to us and our community. Teachers attend conferences, network meetings and professional development opportunities to deepen their understanding of the approach.
Alongside the centre's Reggio inspired practice we follow The Early Years Learning Framework. This Framework describes the principles, practice and outcomes essential to support and enhance young children's learning from birth to five years of age, as well as their transition to school. The Framework has a strong emphasis on play-based learning as play is the best vehicle for young children's learning providing the most appropriate stimulus for brain development. Our Kindergarten classes also use the Queensland Kindergarten Learning Guidelines. These guidelines provide advice for planning, interacting with children, monitoring and assessing, and sharing information in a kindergarten context.
The Curriculum – what do we focus on?
Campus Kindy operates one Pre-Kindy and two Kindy programs. All programs follow the Early Years Learning Framework which assists educators to provide young children with opportunities to maximize their potential and develop a foundation for future success in learning from birth to five years of age. The title of the document is Belonging, Being and Becoming which are three simple words that sums up what we do, Every child in our care will experience a genuine sense of belonging, They have time and space to be themselves and are supported in who they are becoming
Campus Kindy ensures that we are developing these three aspects in the following ways: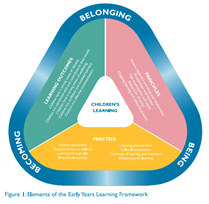 Belonging – Supporting children to belong, providing them with the opportunity to be part of a community
Being – Giving children the chance to be themselves. Allowing children the time to grow at their own pace, enjoy the wonder of childhood, learn about themselves, develop deep relationships and become fully involved with new ideas and interests.
Becoming – Supporting children to realize their potential and also helping them to grow into active members of the community.
The two Kindy programs also follow the Queensland Kindergarten Learning Guidelines which specifically focuses on enriching children's learning in the Kindergarten year. The guideline provides advice to support Kindergarten teachers to strengthen the children's sense of belonging, being and becoming. The guideline has five learning and development areas that relate to the five broad learning outcomes in the Early Learning Framework which are as follows:
Children have a strong sense of identity
Children are connected with and contribute to their world
Children have a strong sense of wellbeing
Children are confident and involved learners
Children are effective communicators
At Campus Kindergarten we embrace a wide range of perspectives and understandings. We are strongly based in an emergent curriculum where children are co-creators of the learning journeys. We support their developing of questions and help them seek solutions and encourage them to theorise and test out ideas. This is sometimes called socio-constructivism. We help children develop a cooperative culture in the rooms that supports taking risks and expressing ideas. We support the expression of ideas in a "hundred" different ways.
The program is derived from observations of the capabilities and interests of each child. This allows the program to be open and flexible as children explore their world, and grow more and more capable and confident in their own abilities. The program endeavors to develop the child's independence, physical growth and ability to focus and concentrate. Additionally, social skills, intellectual skills and emotional developmental needs are essential components considered in the design and presentation of the curriculum.