Approved Kindergarten program
Campus Kindergarten provides Queensland Government approved kindergarten programs. From 2024 children eligible children can access 15hours per week, for 40 weeks per year of FREE KINDY. Click here to learn more about Free Kindy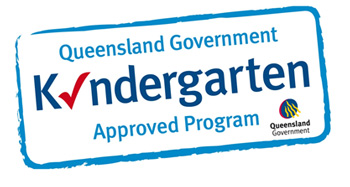 The benefits of Kindy:
Kindergarten is a play-based learning program. The benefits of Kindergarten programs include developing a love of learning, learning through play, and making friends.
What will my child Learn?
Children learn through play. Across our programs, your child will participate in play-based learning experiences designed to encourage their physical, social, intellectual, language and emotional abilities.
Under the guidance and care of qualified early childhood teachers and experienced educators your child will:
Use language to communicate ideas, feelings and needs;
Make friends and learn how to cooperate with other children;
Become more independent and confident in their abilities;
Develop self-regulation and resilience;
Use their creativity to express idea and feelings through art, dance and dramatic play;
Identify, explore and solve problems and
Wonder and spark their curiosity while exploring the natural world around them.
At Campus Kindergarten the Approved Kindergarten Program is:
Is led and delivered by 2 qualified early childhood teachers in each of the kindergarten rooms.
The program runs from7:50am to 5:30pm.